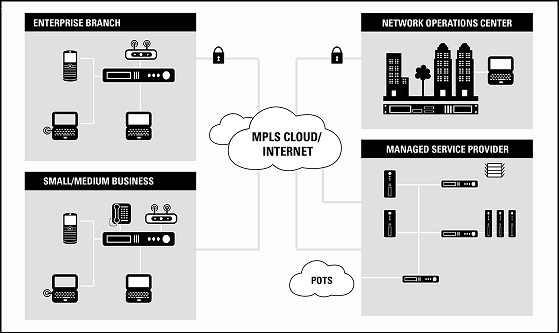 SIMPLIFY AND REDUCE THE COST OF WIRED AND WIRELESS NETWORKING IN YOUR BRANCH OFFICES

Distributed remote branch offices usually do not have the same degree of computing and networking resilience found at a company's headquarters. They typically lack dedicated IT, networking and security teams and support, therefore downtime and outages can be common with problem resolution often requiring a site visit.

To best serve your customers, your staff need mobile access to voice and data. Delivering those services required multiple networking appliances in each branch office — each with its unique management interface.
By deploying an Integrated Services Platform, you can extend not only wired and wireless networking, but also telephony services, support for Bring Your Own Device (BYOD) initiatives, plus the most advanced mobile applications — all with a single appliance and one management interface. This allows you to connect your branch office staff whicle reducing the complexity and cost. Your staff will have more services to better serve your customers. Network management become simpler and e.your network can easily support next generation capabilities as they are introduced. This effectively improvs the lifecycle and return on investment for your network infrastructure.