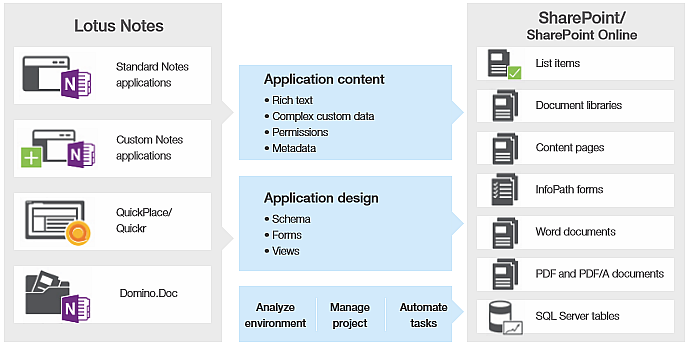 In the early stages of computing with centralized operations, there was no real need to share data across systems. However, the emergence of personal computers and smart terminals created information islands raising the need to collaborate and share information across computers.

Lotus Notes seemed to be a panacea for all the needs and offered a solution for collaboration, information sharing, information management and related functions. It soon became an integral part of the IT portfolio for most organizations due to its ability to replicate, provide offline content and data security, its ability to provide a huge database and web server directory services, and its ability to develop applications rapidly.

Over the years, as technology became increasingly ubiquitous, and new needs and ways for data sharing were discovered, new players entered the fray. Each of these platforms had its philosophy and tried to fulfill user needs in a specific way. As features evolved and became sophisticated, platforms matured and metamorphed into specialized platforms for messaging, document management, content management, portals and collaboration management. While businesses were moving into an era of highly scalable architecture, web services and Service-Oriented Architecture (SOA), rich customer-facing applications, and mobile workforces; most of the available platforms did not provide rich capabilities and flexibility. Though Lotus Notes evolved with time, adding features such as web support, instant messaging, presence awareness, blog, wiki, RSS support etc., other products caught up and offered better cost-feature benefits. For this reason, many companies striving to be more efficient, more competitive and more.

Migration Methodology
cost-effective evaluated other collaboration products and in many cases decided to switch to competitive product mix such as Microsoft Exchange and SharePoint. Microsoft's SharePoint platform underscores this growing desire to invest in the advanced technology. It is the one of the platforms where a variety of information can be consolidated and managed. SharePoint provides enterprise-ready and integrated server capabilities. In the last few years, it has emerged as a strategic platform for organizations worldwide. Starting from SharePoint 2003, Microsoft Office SharePoint Server (MOSS) 2007, Windows SharePoint Services (WSS) 3.0 to SharePoint 2010 & 2013 and to Microsoft's SharePoint Offering in Cloud-Office 365, there are many versions of SharePoint that can serve varied needs of users and organizations..
Business transformation
Business transformation is a lot like root canal: you know you'll be better off afterwards, but you'd always rather have it in your past than in your future. KPMG found that 60 percent of 910 U.S.-based multinationals surveyed had started or completed at least one major transformation initiative, with 30 percent citing "coping with change in technology" as the top reason ("Business Transformation and the Corporate Agenda," KPMG, 2013). Many of the customers we talk to point out that technology transitions such as the one from Notes to SharePoint also represent an opportunity to transform their business and become more agile and productive.
In fact, technology now nurtures transformation instead of hampering it. Back when business units like HR, Accounting and Sales were locked into separate vendors or Notes applications for their software direction, the organization stood little chance of transforming as a whole. Now, consolidating on a computing platform is easier because of the almost universal family of Microsoft enterprise applications like SharePoint.
Cost Reduction
Saving money is a good reason to migrate, and the Notes-to-SharePoint migration offers lower costs in the following areas:

Reducing user training – Because most users are already familiar with Microsoft products, they require little training to take advantage of SharePoint's features. This is not the case with Notes and the applications built on top of it. In fact, many organizations must provide additional training in Notes beyond what they provide for Microsoft Office.
Improving productivity – Even with training, many users never achieve the level of productivity with Notes that they achieve with SharePoint. The consistent look and feel of Microsoft applications enhances productivity, but that consistency does not apply to Notes, which requires users to adjust as they move between the platforms on the same PC. When users must continually ask themselves whether they're in the Notes world or the Microsoft world, it detracts from their productivity. Within the Notes world, the variations allowed in the user interface can cause yet more confusion, with inconsistent placement of buttons, labels and navigation. Across an enterprise, the additional training and seconds of slowdown add up to real costs.
Capability Enhancement - As more organizations recognize that SharePoint represents the future and Notes represents the past, the functionality gap between them becomes wider and deeper, particularly in three areas:
Search – The ability to find information in Notes suited the needs and expectations of enterprise users a decade ago. Now, users inside and outside the enterprise take for granted search functions such as intuitiveness, relevance and ratings, which SharePoint includes. When information is only as valuable as the ability to find it, search is of primary concern to smart organizations contemplating migration.
Integration between applications – Given the dominance of Microsoft Office in the enterprise, the tight integration between Office applications and SharePoint is a strong argument in favor of migration. In real-world use cases such as multiple users collaborating on a Microsoft Word document or Excel spreadsheet, SharePoint-to-Office integration far outstrips Notes-to-Office integration.
Workflows – Successful business processes rely heavily on automated workflows like task assignments, reviews and approvals. Without its own workflow engine, Notes is poorly equipped to propel these processes, but SharePoint's workflow engine is built upon a service provided by the operating system. The engine is readily available to developers, who can easily integrate workflows across products.